My Passion and My Pain
During my childhood, back in the seventies, like all other kids I was fascinated by motorcycles.
I was thrilled by the sound of their accelerating engines and I could imagine the feeling of
freedom and power associated with them. And like other kids I longed to reach the age necessary to
acquire a driver's license and to go on a motorbike myself. I remember that when we would go out on
a trip by car, we children would eagerly look out for every motorcycle at each traffic light and would
be most impressed by those which appeared biggest and which had the highest amount of exhaust pipes at
either sides.
Back then and in my memory, it was a time of prosperity and freedom. The revolts of 1968 had greatly
altered the moral standards of society and resembling an outcast like Marlon Brando in "The Wild One"
was considered cool. The Germans enjoyed life, by the way, and felt good about themselves. People also
where not very particular about the stile of their clothes. In my memory, many young people dressed
somehow like the Rolling Stones and even in a slightly untidy manner.
Well, it was in that time that I acquired my passion for motorbikes.
When my father bought himself a motorbike, I therefore was enthusiastic about the fact. That was in my
adolescence, and he even took me on a ride on the back seat now and then. It was a pre-owned
Suzuki GT 250 motorbike that was a bit out of stile even then, but that didn't matter too much.
The era of the big Japanese 2-stroke bikes was already past then. I don't think that my dad was a good
driver and sometimes I was rather scared. But all the same, I even was a bit proud of him. It was so
exciting to ride on it, although it wasn't a very fast motorcycle.
Both my dad and I had read Robert Pirsig's epilogue on 'Zen and the Art of Motorcycle Maintenance'.
However, my dad wasn't a very good mechanic - he was an intellectual, an economist and computer programmer.
The motorcycle was rather rather old, and its condition didn't improve over the years. My father did not care
much and after a very long vacation on the British isles, someday he simply was fed up with it. Still several
years later and in a weak moment, he gave the motorcycle to me - as a present!
I was enthusiastic of course and immediately started planning the restoration of it, since it by then was
badly corroded and in a woeful state. I spend several years on its thorough disassembly, on the cleaning
of each part, on reparing, on painting, on buying spares and finally on its re-assembly. I had the cylinders
bored, fixed new pistons, and gave everything a new varnish. It looked great, when finally everything was
finished, even my dad admitted that, although he had always argued with me that I was making way too much
of an effort.
But look yourself!

---
My second motorcycle I bought in disassembled spares, but without the chassis frame. That I bought from
an advertisment in the German motorcycler's magazine Motorrad. It was a large motorcycle and it
was a four-stroke engine - with four cylinders, 750 ccm, 16 valves and bloody 77 horsepowers! Imagine how
thrilled I was by the prospect of owning this 'rocket' of a motorbike! Again, it took me long months
of work in our little garage to restore this motorbike. The workshop was in a non-profit neighbourhood
community centre, called Motte, in the Hamburg district of Altona. It was much fun to meet
there once a week, to help each other on fixing or improving our bikes, to discuss about their technical
features and, of course, to go into the pub afterwards. I met splendid people there - Abdulh and Bernd
I even considered my friends during that time.

I was fortunate to be making an internship in a factory, which was producing large industrial centrifuges.
The guy in whose care I was during several weeks and who was a genius on the lathe made some bushes for my new
motorcycle, which I needed since frame and rear wheelbase didn't fit, because both were from different
production years. A good friend from the military service took the fuel tank and sidecovers to a
colleague of his, to get them varnished. He was a professional varnisher, but re-did the parts several
times, because he could't get the colour to match. I think that afterwards he wanted never to touch upon
motorcycle parts again, but he eventually made a very good job.

Have a look at my Honda CB 750 K!

---
I liked riding my Honda - it went smooth, comfortable and had a good sound, quite unlike the little
two-stroke Suzuki. And it was very fast - the acceleration was tremendous. The engine torque at lower
revolutions however, was rather low, which is typical for a sports motor with many cylinders. I discovered
this fact after I had moved to Hanover for my studies on mechanical engineering. I started cruising
around the mountainous Weserbergland with some friends from the student's house I lived in.
I didn't like to rev it up, so I found myself left behind by someone on a Yamaha SR 500, which is a
motorbike with about a third of nominal engine power, but with high torque at low engine speeds.
Besides, I must admit, I wasn't a very good driver yet, since it was only my third year of driving and
around my hometown Hamburg, there simply aren't many curves and mountains to practise professional riding.

In a hot summer afternoon of stop-and-go traffic in Hanover city, I must have speeded the engine too much
on the way off from some traffic lights. Shortly afterwards I noticed a ticking sound from the engine, which
was quite worrying me. We couldn't find out what it was, without opening the motor. The Honda dealer made
diagnosed a worn starter clutch. I made him do the repair work for a heavy service bill.
After that season, I decided to sell my motorbike to the Honda dealer, in exchange for my third motorbike,
which was a Yamaha TZR 250.

---
The Yamaha now was a genuine sports motorcycle. It was one of the first bikes with an aluminium frame.
It had a liquid-cooled 250 ccm two cylinder two-stroke engine, which developed amazing 50 horse powers.
That was a lot, in relation to its weight of only 144 kg. It had a superb handling, fantastic brakes,
it was comfortable, all the more, since it had a fairing, but its engine torque was a meagre as that
of the Suzuki. And of course, it fumed and its exhaust gases simply stank. But I liked it. In spite
of this, I re-sold it the next spring, because being a student I had a bad conscience about owning two
motorcycles - I still possessed the GT 250 - and the Yamaha was quite new and had cost about 6,000
German Marks.
I then went back to my Suzuki, which I rode for two more years. But I wasn't lucky with that either.
Its engine started to get noisy and to lose power. It actually sounded like a worn main bearing, which
couldn't be the case, since I had fitted a brand-new crankshaft. So I searched for a new motor, found an
entire used motorbike, which some Turkish people offered to sell. I bought it from them and exchanged
the engines, together with a friend. The other motor had much more torque at lower revs.

I sold my Suzuki one Friday in the Georgstraße in down-town Hanover, where there's always a large
assembly of motorcyclists on summer Friday afternoons. I had attached a paper board to one of its side
cases and had scarcely been away for a quarter of an hour, when there was someone, who bought it from
the spot. I was both sad and relieved when it was gone.
---
Then, during a quarter of a year, I didn't own a motorbike at all. In early autumn I bought myself a
used Suzuki VX 800, which was only two years old then. That was the first motorcycle that I liked in
almost all aspects. I had a great torque even at very low revs, it had a beautiful sound, it was fast
and it was comfortable. And it looked superb, too, which isn't common with Japanese motorcycles. The
only thing I didn't like was its lousy finishing - the varnishing was very soft and susceptible to
scratches. The crome-plated parts were very prone to corrosion. But I rode it for four years and more
than 40,000 km. The reason for which I sold it was that by then I was a bit fed up with Japanese motorbikes and with
their lack of robustness. So the next motorbike I got myself was a BMW R 80 GS, which is a sort of trail
bike.
---
The BMW was quite different to the Suzuki. It had a very low centre of gravity that, together with the
crankshaft, whose axis points in longitudinal direction, yield a very good handling. The engine has a huge
flywheel inertia and thus can be operated very smoothly. On the other hand, it is not one of the fastest
bikes I had. It had the handsome sound of the flat-twin motors, but with a clicking noise from the valve
tappets within the cylinder head, which at times annoyed me. It was very comfortable, because of the upright
sitting position, its little fairing and because the former owner had fitted an Öhlins rear
suspension strut. However, I found its fuel consumption to be quite excessive; it always took about 7
litres per 100 km.

I wasn't supposed to be lucky with my first BMW either. From the moment I bought it, it had a slight
leakage at the left hand cylinder downside gasket. In my mind was the image of BMW motorcycles being
very sturdy and rather massively built machinery. So I was sure that prior to a disassembly of the entire
cylinder, I should try to get the gasket tight by a re-tightening of the cycinder struts. I think I made
this attempt with a 10 percent of increased torque. It worked on three of the four struts, the last of
which instantly felt like it was torn out of the engine casing. What a horror! In my desperation I
agreed with a BMW mechanic to try to glue this strut into the housing, which, of course was ridiculous
and which didn't last very long. Then I found an unofficial BMW garage in the Berlin district of
Neukölln - I lived in Berlin during that time and was writing on my Ph.D. Thesis. The mechanics
there mounted a new threaded insert into the motor housing and were confident that it would work. They
didn't charge too much and so I thought myself lucky. However, shortly after Winnie and I had left for a
vacation in Italy, the cylinder gasket would leak again. I kept on spilling minor amounts of oil throughout
the voyage, but apart from that the engine was running very well. Back in Berlin I didn't gave much more
thinking about the problem, but let the garage in Neukölln replace the entire motor housing, which was
expensive, as you can imagine. Again as you might guess and to my chagrin, the oil leakage was still
existent, and we then quickly found the origin being a small and short fissure in the cylinder foot.

I glued this crack with methyl-methacrylat epoxy resin after a thorough cleaning, and this repair did keep
tight very well.
---
My second BMW then was one of the new generation flat twins, a R 1100 GS. That was a really wonderful
motorcycle. It had a monstrous torque of about 100 Nm even at very low revolutions, so it was very fast.
It had the best, the most comfortable and most stable chassis of all bikes I had had so far. It had an
anti-locking brake and shortly after I bought it from a friend, I fitted an exhaust system with a
fully-controlled catalytic converter, which was state-of-the-art in BMW motorcycles then. I also
fitted baggage cases and bought a tank-knapsack. That year, Winnie, Frank and I went on a wonderful
three-weeks trip to England, Wales and Scotland. The two of them had by then similar BMW flat twin
bikes, so it was one of our first trips together, where we encountered absolutely no technical problems
at all.
But again, I wasn't 100-percent content with the bike. I found it was quite heavy for once, and I didn't
like the fact that the motor had very little inertia, probably neither in the crankshaft, nor in the
flywheel. It therefore responded very direct to any angular change in throttle position, i.e. it de-
and accelerated fiercly at low speeds and made the helmets of you and your passenger bump together.
That didn't match with my calm style of driving. A second reason that made me selling it again after
just one season was the fact that I wanted to have the money to pay back my government loan with which
I partly had financed my studies. I have occasionally regretted that decision afterwards, because the
R 1100 GS is a superb motorbike.
---
I then was thinking hard about which bike to buy next. It was supposed to be less expensive, since by then
I owned my first car. I finally decided to buy a BMW K 75 c. I had fallen in love with a light-blue model
of which I found a pre-owned offer that had still a very low mileage and wasn't expensive. However, it
wasn't in too good condition - most bolts and some other parts were corroded, but nothing serious. So I
polished it up during some time, and after taking the following photography, I concluded that it is the
most handsome motorcycle I have ever owned.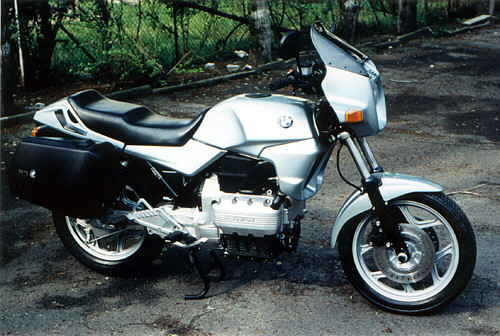 But, alas! When I joined Frank and Winnie on my first trip through the Weserbergland, the K75 turned out to
be shaking wildly inside curves that were rapidly driven and with a high angle. It wasn't just frightening,
but outright dangerous. How I felt unhappy again and how I cursed myself for having sold my beautiful R 1100 GS!

However, I started working on the improvement of the chassis' stability - I let a new tire be mounted and
replaced the front fork oil with one of a higher viscosity. These two measures almost solved the problem
and after I had fitted new fork springs with a higher stiffness and with a non-linear winding and a BMW
sports rear suspension strut, my K75 now probably has more stability while driving through curves, than most
other motorcycles. I have owned this bike now for six years now and have driven more that 40,000 km. The bike
is like a Swiss army knife - versatile, robust and with a very good finishing. It has a lovely curve of
engine torque versus revolutions, its handling is superb, it is comfortable and from what both owners and
mechanics say, literally undestructible. I haven't had any defects apart from a malfunctioning ignition plug
and a worn trottle actuating cable.
---
Now, isn't that a saga that I just confessed about my motorcycle-mania? It appears to me as slightly tragic and
as a preoccupation that during several periods has replaced a more natural subject in its stead. However,
I have always been and still are enthusiatic about machines and technology, but still.

Back to the main page.
© Copyright by David Koebel